Successful first online auction night
21 September 2020
The first of three auction nights of the Limburg Foal Auction is a wrap! And it turned out to be a successful one. The first 25 foals were sold for an average price of exactly € 8,000, and for a price of €18,800, Edwin Enzerink's breeding product Pegasus (s.Berlin) proved to be the top seller. During the next two days, many other interesting jumping foals will be featured in this online auction.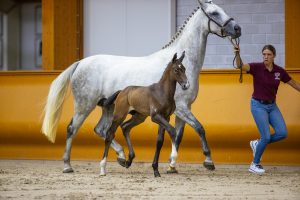 Five foals were sold for a price of € 10,000 or more during this first auction night. The best paid foal of the evening, Pegasus (Berlin out of the Grand Prix mare Absie s.Corland, breeder Edwin Enzerink), sold for € 18,800, will remain in the Netherlands. For € 15,000 the Tokyo du Soleil offspring Perfectomundo (ds.Kashmir van 't Schuttershof, breeders S. te Bokkel, T. Krikke, M. van Middelkoop and F. Schoon) leaves for Great Britain, and the Italian rider Paolo Adorno purchased the interesting Nabab de Rêve son Nairobi VG (ds. Cantos, breeder René Zegers) for € 14,000. With his full brother Fer Z.G., Paolo is successful on international 1.55m level. Other foals have been sold to America, Great Britain, Ireland and Germany.
Good start
"We have made a good start today and are very satisfied. Quality is well paid and the prices are fair," says Paul Hendrix. "In addition to a few nice highlights, we have achieved good prices on average and the first reactions from the breeders are also positive. We are therefore looking forward to the next two days, as we have many more interesting foals to be auctioned." The auction will end tomorrow evening from 19:00 pm for the foals with catalog numbers 26 to 53. The last group of foals will be auctioned on Wednesday at the same time.
Here you can find all the results of the first group of foals.
Register now to be able to place your bid
Go directly to the auction page
More information about the foals (name breeder, birth date) can be found on this page