Registrations for Limburg Foal Auction will open soon
5 May 2020
The 20th edition of the Limburg Foal Auction will take place in September. Every year it appears that the breeders are very fond of this auction and they will soon be able to register their foals for the selections. How the auction will be exactly organized will become clear in the coming weeks, but it is certain that the Limburg Foal Auction will take place.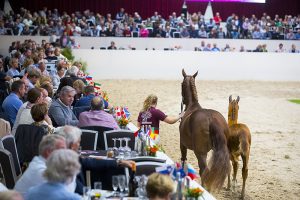 From this year there will be full specialization in jumping foals. In recent years, they have guaranteed almost every edition good prices, satisfied breeders and happy buyers at the auction that is normally organized in the Equestrian Center de Peelbergen. "We are still looking for the most professional way to organize the foal auction this year," says Paul Hendrix. Due to all Corona measurements, an online auction is one of the options. "We are going to make a decision about this in mid-June. This has also to do with Dutch Sport Horse Sales. We are awaiting further developments regarding the Corona virus for that."
Organization
As of this year, Stal Hendrix has taken over the entire organization and implementation of both auctions. The breeders will be informed as soon as possible about all the selection options and other details for this special 20th edition.