Online foal auction closes on Friday night
30 September 2021
The day after the successful 20th edition of the Limburg Foal Auction, it is time for an online edition in which another 30 foals will be sold online. Offspring of top progenitors such as Emerald van 't Ruytershof, Aganix du Seigneur, Diarado and the new World Champion Querido VG Z (2) are part of this impressive collection and the bids close on Friday evening the 1st of October from 7.30 pm.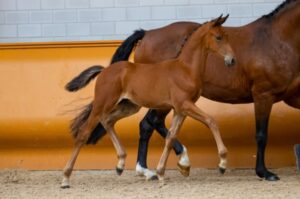 Last night at the Peelbergen Equestrian Centre it was proved once again that good prices are paid for high-quality foals from first-class performance damlines. An average price of €10,800 was reached for a generous total of 75 foals, a new record, and that gives good hope for the online foal auction.
Performance genes
Various foals were bred from dams that have already produced international performing offspring, five foals have dams which have performed at a minimum of 1.35m level themselves. Four foals were bred from half-sisters of international 1.60m level showjumpers and the direct damlines of outliers like Havinia (Gianni Govoni), Glamour Girl (Henrik von Eckermann), Van Gogh (Marco Kutscher), Calvados Z (Christian Ahlmann) and Voltaire 89 (Marc Houtzager) are represented in this collection. Two foals are sired by the World Champion of the five-year-old showjumpers, Querido VG Z, and also promising progenitors like Chacoon Blue, El Barone 111 Z, Escape Z and Pegase van 't Ruytershof have interesting foals in this collection.
Click here to see the collection of this online auction, for which you can register as a bidder here. The first lots close on Friday the 1st of October at 7.30pm.