Limited public access to the Limburg Foal Auction
21 September 2021
We are delighted to host a live auction on Wednesday the 29th of September. Due to all COVID19 regulations, only limited public and VIP access is possible, and pre-registration on the website is required. Both the presentation and auction are live broadcasted by ClipMyHorse and online bidding is possible at the website.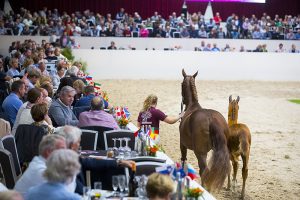 The 20th edition of the Limburg Foal Auction will take place at the Peelbergen Equestrian Center in Kronenberg. The presentation of the foals starts at 1.30 pm and the auction from 4 pm. There is a limited number of seats available and access to the auction is only possible after showing the QR code/COVID Safe ticket, which will be mandatory for all events from the 25th of September in the Netherlands. It is possible to reserve a seat via this link and the costs are € 10.00 per person. At the moment there are also some VIP places available, tickets can be ordered via this link.
Both the presentation and auction will be broadcasted via de ClipMyHorse livestream and via this link you can register as a bidder.