Limburg Foal Auction selects future talents from a solid breeding area
7 September 2023
On September the 27th, the 23rd edition of the Limburg Foal Auction is marked on the equestrian calendar. An interesting collection of showjumping foals, mostly originating from proven damlines, will be auctioned at the Peelbergen Equestrian Centre. The strength of the Limburg breeding area was once again demonstrated at the European Championship in Milan, and this auction offers the opportunity to invest in carefully bred and selected future talents.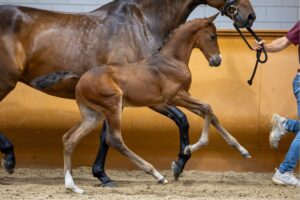 At the European Championship in Milan, two Limburg-bred products, namely Henrik von Eckermann's Iliana (s.Cardento) and the stallion Highway TN (s.Eldorado van de Zeshoek) owned by Willem Greve, finished in the individual top ten. In the southeast of the Netherlands, not only is the sport flourishing, but the breeding is also of an unprecedented level. The majority of the foals in the Limburg Foal Auction comes from this breeding area, thus possessing great potential.
First-class performance genes
The new foal collection is infused with performance genes. Foals from mares that have performed at international 1.50/1.60m level or siblings to horses who are successful at the highest level are included in the Limburg Foal Auction collection. Proven damlines are linked to both established progenitors and promising breeding stallions. Over 80 foals will be auctioned in the live auction on September the 27th, and in addition, there will be an interesting collection of over 40 foals available in the online edition of the Limburg Foal Auction, which concludes on September the 29th. Over the years, the Limburg Foal Auction has built a strong international reputation, underscored by an ever-expanding list of references. Discover quickly who will be the successors to previously auctioned standout horses such as Ginger-Blue (Ben Maher), Parrandero (Giavanna Rinaldi), Janeiro (Max Routledge), Madiba AG Z (Ashley Vogel), and Clarima (Sanna Bergs-Olsson).
Click here to discover the new collection for the live auction on the 27th of September. The collection for the online auction will follow as soon as possible.