Limburg Foal Auction presents very promising collection
7 September 2021
Foals bred out of Grand Prix mares, dams of approved stallions and prominent damlines. The 20th collection of the Limburg Foal Auction is one that riders, owners and breeders will be very excited about. On Wednesday the 29th of September this promising collection will be auctioned live at the Peelbergen Equestrian Center and the foals can now be found on the website.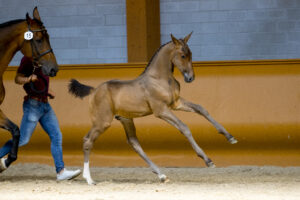 Over the past twenty years, the Limburg Foal Auction has built up an excellent reputation and this year the selection committee has once again been able to put together a striking collection. Most of the foals are coming from the strong breeding area around Limburg. The committee consisting of Paul Hendrix, Cor Loeffen, Stan Creemers and newcomer Michel Hendrix has succeeded in selecting a high-quality collection, with first-class performance genes.
Performance genes
The collection includes direct foals out of the international 1.60m mares Rosana du Park (Eric Lamaze), Carriere (Daniel Deusser) and Calumet (Catherine van Roosbroeck). International 1.50/1.55m level performing mares such as Wimphof's Hinde (Marriet Smit-Hoekstra), Also Especial (Malin Parmler) and Cantate (Paul van Wylick) have direct offspring in this high-profile collection as well. The foals also represent striking genes on the sire's side. For example, offspring of stallions such as Taloubet Z, Colorit Z, Balou du Reventon, Casall, Bustique, Conthargos, Eldorado van de Zeshoek, Bamako de Muze and Cento will be auctioned.
Two auctions
In addition to the traditional foal auction on the 29th of September, an online foal auction will also be organized. On the 1st of October these foals will be auctioned online and this collection will also be published shortly on this website.