Limburg Foal Auction presents promising collection
5 September 2022
On September the 28th, the 22nd edition of the Limburg Foal Auction will take place at the Peelbergen Equestrian Centre. Today the collection for this renowned auction has been presented. First-class performance genes are united in the collection and the majority of the foals are closely related to international show jumpers. The auction thus promises to be an excellent opportunity to purchase outstanding foals.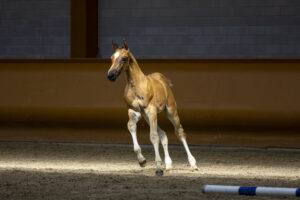 In the traditional auction, which is organized the day after the Dutch Sport Horse Sales, more than 80 jumping foals will be auctioned by auctioneer Koen Olaerts. Afterwards, another 40 foals can exchange owners via the online auction, where bids can be made on September the 29th and 30th.
References at the highest level such as Ben Maher's Grand Prix winner Ginger-Blue (s.Plot Blue), Ermindo W (s.Singapore) of Rolf-Göran Bengtsson, Van Gogh (s.Numero Uno) of Marco Kutscher and H&M Extra (s.Berlin) of Olivier Philippaerts prove the power of the Limburg Foal Auction. The selection committee, consisting of Paul and Michel Hendrix, Cor Loeffen and Stan Creemers, was once again able to select a strong collection this year, thanks to a large group of breeders. The collection includes foals bred from international performing dams, half-brothers or -sisters of horses that are already performing at the highest level, and offspring of both promising stallions and proven progenitors.