Last opportunity to invest in the future
23 September 2020
The auction closes tonight for the last group of foals. The Limburg Foal Auctions offers for the third day in a row an interesting group of foals with proven and promising performance genes. 25 foals with great potential for sport and breeding.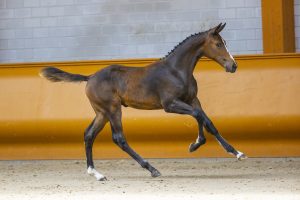 Tonight the online auction starts with closing the bids for the interesting Sfeer 707 Z, a stallion foal by Stakkato Gold, bred out of a 1.40m mare. His well-known granddam Ligie produced no less than seven international 1.50/1.60m showjumpers. Also a true future talent is Trinidad (Tobago Z x Casall), a son of the full sister of Daniel Meech's Grand Prix horse Cinca 3 and he has the 1.50m mare L-Cinderella as granddam, she is a half-sister of the famous Grand Prix stallion H&M Chilli Willi. A real powerhouse is the Echo van 't Spieveld son Elliot Terma H (ds.Elvaro), bred from the line of the international sports stallion Brainpower and also for interesting offspring of Verdi, Emerald van' t Ruytershof, Casall, Glasgow van 't Merelsnest and Conthargos final bids can be placed on the 23rd of September.
A bid placed two minutes before closing will extend the closing time with two minutes. Every new bid will have the same effect.
Register now to be able to place your bid
Go directly to the auction page
More information about the foals (name breeder, birth date) can be found on this page