Klacid of Cicero selected for KWPN stallion test!
6 February 2018
One of the top foals of the Limburg Foal Auction in 2015, has turned into one of the top stallions at the KWPN Stallion Show. Klacid or Cicero is bred by J. Vrenken and showed his show jumping skills in the selections. Afterwards he was selected for the performance test.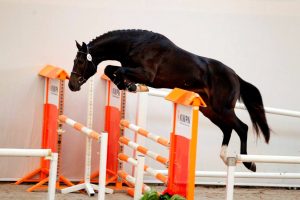 The impressive Klacid or Cicero (Cicero Z x Indoctro) was purchased at the auction by Emile and Paul Hendrix. He continued to develop very well and impressed with his jumping talent in both the first and second round viewing. No surprise considering his great orgines. His dam performed at 1.35m level and is a half sister of Maikel van der Vleutens international 1.55m jumping horse Cupido V (by Numero Uno). Grand Prix show jumpers as Mygirl (by G.Ramiro Z) and Ranino V (by Animo) are also bred out of this Limburg performance family.
Kwish T approved
Earlier this month there was stallion success for Kwish T (Kannan x Ultimo), who was also sold at the Limburg Foal Auction. This stallion was bred by Thei Tax and has now been approved by the German studbook DSP. Kwish T represents a very fine damline, as his dam is a half-sister of the Grand Prix show jumpers Cas (by Indoctro, also sold at the LFA) and Dali T (by Phin Phin).
Picture: Paardenkrant/Horses.nl