King's Especiale wins eventing championship in USA
30 October 2020
The Connect son Redfield King was part of the collection of the Limburg Foal Auction five years ago and has now managed to achieve an outstanding result in the United States. Under Caroline Martin, this horse bred by Jack Verstappen has won the USEA Young Event Horse Championship for five-year-old eventers.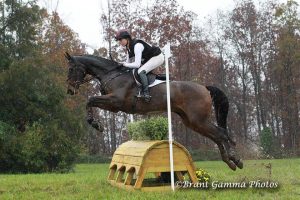 In 2015, King's Especiale, which is the birth name of Redfield King (Connect x Vittorio), was auctioned in the Limburg Foal Auction and Stal Hendrix became the new owner. He has developed into a big, talented showjumper with a lot of blood.
All the qualities
Last year, Emil Spadone of Redfield Farm became co-owner with rider Caroline Martin, and together with Stal Hendrix they form the 'HX Redfield King Especiale Syndicate'. Caroline is very excited about Redfield King's jumping and eventing talent. "Paul Hendrix said to me that he had the perfect horse for me when I visited his stable last year. Paul was 100 percent right. King is so special. He was recently broke because he was so big they left him in the field for a while and he had only jumped a handful of times, but the horse is just incredible", said Caroline Martin. "I would love to take him next year to the WC in Le Lion d'Angers. He is so brave, such a great jumper. The gallop is unreal and the flatwork is too. We have high hopes for the future." Redfield King is bred out of the successful damline of foundation mare Especiale. This Voltaire mare was successful for years on the highest level of showjumping with Eric van der Vleuten. Every year several foals out of this damline are exclusively for sale in the Limburg Foal Auction.
Picture: Brant Gamma Photos