H&M Extra is the LVV Horse of the Year 2019
25 September 2019
The list of good references from the Limburg Foal Auction continues to grow. One of the most striking horses at the highest level is the impressive Berlin son H&M Extra, who was auctioned at this auction exactly ten years ago. Thanks to his striking performances under Olivier Philippaerts, the breeding product of Grad van de Winkel was today honored as LVV Horse of the Year.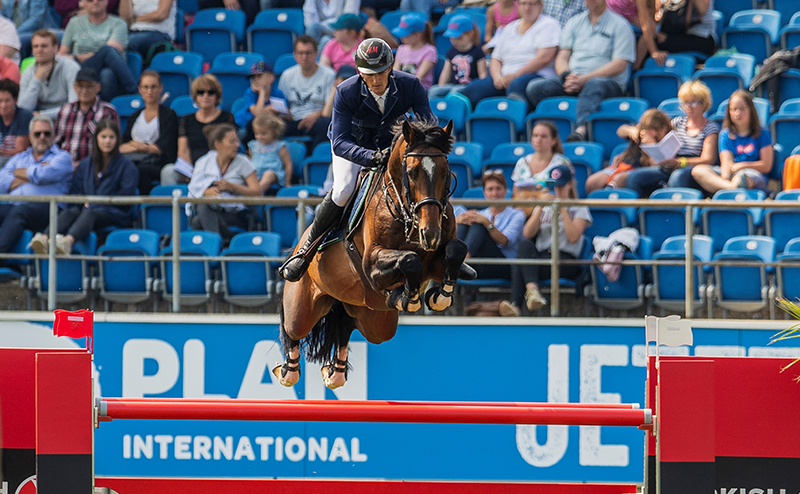 The ten-year-old stallion H&M Extra (Berlin x Heartbreaker, breeder Grad van de Winkel from Smakt) already made a big impression in 2009 with his athletic conformation, proven bloodlines and powerful canter. In the auction he caught the eyes of the Philippaerts family and the late Leon Spronken, who purchased this powerhouse at the Limburg Foal Auction which was still held in Weert at the time.
Top class
Amongst various riders from Stal Philippaerts, the Zangersheide approved stallion has grown into a very successful Grand Prix show jumper. Under his current rider Olivier Philippaerts, he has often been placed on the highest level already. Their most striking achievements include the victory in the Nations Cup of Calgary, in which they were of great value to the Belgian team with a double clear round. Earlier this season they already finished third in the 1.65m Rolex Grand Prix of Rome, fourth in the 1.60m of CSIO * Aachen and fifth in the GCT-GP of Miami Beach. Another nice detail is that two years ago at the Limburg Foal Auction his owners invested in the full sister of H&M Extra, the promising top seller Mucinda.
Second title
For the second year a horse of the year is chosen at the Limburg Foal Auction and with that H&M Extra follows in the footsteps of the Indoctro son Cas 2, who performs with Harrie Smolders. Tonight the owners of H&M Extra, Nadine Budeners and rider Olivier Philippaerts, together with breeder Grad van de Winkel were honored during the 19th edition of the Limburg Foal Auction.