Grand Prix victory for LVV-ambassador Cas 2
4 April 2018
The development of the Indoctro son Cas 2 under the saddle of Harrie Smolders was already remarkable. Last weekend, the duo added a magnificent Grand Prix victory to their record. In the Grand Prix of the first week of the CSI2* Lanaken they were clearly unbeatable.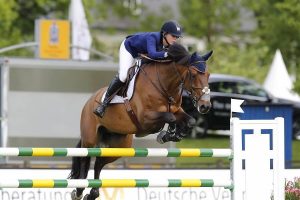 In 2007, the by Th. Tax from Blitterswijck bred Cas (Indoctro x Numero Uno) was part of the collection of the Limburg Foal Auction. He already achieved successes in international showjumping classes with several riders, but his real breakthrough came thanks to the perfect match with Harrie Smolders. In the Grand Prix of Lanaken they left no less than 16 pairs in the jump-off behind them, of whom 8 also jumped another clear round. "Cas jumped very well! My goal was to make it a learning round for him, but he picked it up so well that it gave us the victory. And winning, that never gets boring!", said Smolders afterwards.
Save the date
Don't miss the opportunity to buy a future top horse like Cas 2 at our auction this year. The 2018 edition of Limburg Foal Auction will be held on Wednesday the 3th of October.