Ginger-Blue is the 'Horse of the Year 2022'
1 October 2022
In recent years Ginger-Blue, who was sold in 2011 through the Limburg Foal Auction, has developed into an excellent ambassador for the auction. Under Ben Maher, the Plot Blue daughter has already won several Grand Prixs and that is the perfect reason to crown this horse bred by Piet Verberne as the Limburg Foal Auction Horse of the Year 2022.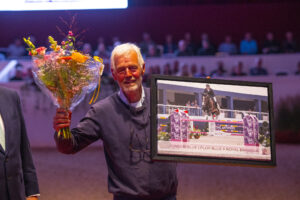 Breeder Piet Verberne was involved in the ceremony during the 22nd edition of the Limburg Foal Auction. A pleasant surprise for the breeder, who was present at the auction with two foals from the direct damline of Ginger-Blue.
From Sweden to Maher
The Plot Blue daughter (ds.Royal Rose) was auctioned in 2011, as a granddaughter of the international 1.50m mare Jozita ridden by Edwina Tops-Alexander, in the Limburg Foal Auction. The Swedish Helmo Stables bought the promising filly, and under owner Jacob Hellström she started her international sport career years later. Ginger-Blue made her debut at the 1.45m level with this rider at the age of seven and was discovered by Ben Maher not long after. His sponsor Jane Forbes Clark purchased the KWPN bred mare that same year and that proved to be the start of a top sport career for Ginger-Blue. Ben Maher and Ginger-Blue have already won five international classes, including the Grand Prix of CSI5*-GCT Paris and CSI4* Valkenswaard. Besides that, they finished second in the CSI5* Grand Prix of London, ended up fourth in the CSI4* Grand Prix of Wellington (twice) and fifth in the CSI5* Grand Prix of Hamburg and Rome. All in all, a top reference for the Limburg Foal Auction, who has a great future ahead.
Picture: DigiShots