First class potential well paid at Limburg Foal Auction
24 September 2014
The fourteenth edition of the Limburg Foal Auction will be remembered as a very successful one. At first, it seemed very ambitious to sell 105 foals, but the high quality collection turned out to fulfil both domestic and abroad demands. The average price of €7.847 improved in comparison to last year, even with an extra 27 foals. The extra moving filly Jeetjemina Irene S (s.Charmeur) was the most expensive foal, the hammer dropped at €23.000.

The 105 sold foals generated a total turnover of €824.000. Belgian auctioneer Koen Olaerts took care of a smooth progress of the evening. Jeetjemina Irene S (Charmeur x Krack C), bred by Piet Selten, stays within Dutch borders. No less than 25 foals fetched a price exceeding €10.000 or more. Even three foals got sold over €20.000.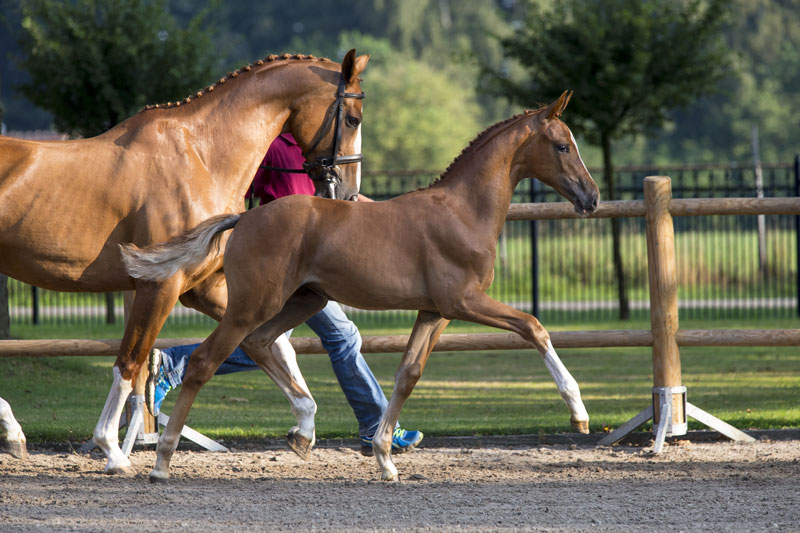 Auction star Jeetjemina Irene S
Besides the amazingly moving auction star, the expressive Jazz-son Just On Time (ds.Negro) got sold for €22.000, he stays in The Netherlands as well. The most expensive jumper foal, the athletic James Bond (Balou du Rouet x Cavalier), goes off to Ireland for €21.000. Three foals produced a price of €16.000; the impressive Maine Z (M.Blue x Lasino), eye catcher Joukje W (Apache x Vivaldi) and the promising Olympus van de Peerdeblook (Emerald van 't Ruytershof x Voltaire). Interest from abroad turned out to be large, also in bids by telephone and live stream (9.000 viewers). Foals got sold to nations like USA, Germany, Belgium, Sweden, Finland, Great Britain and Canada.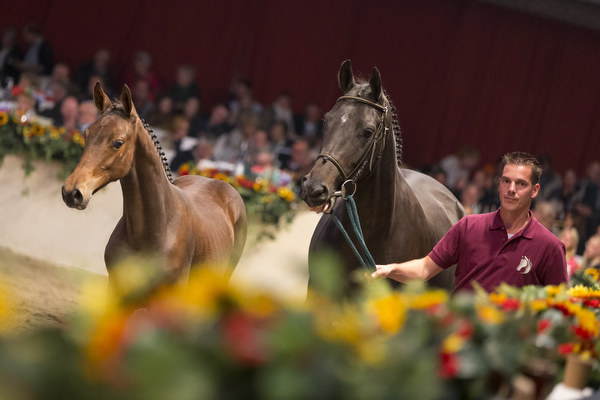 The selection committee consists of Paul Hendrix, Harrie Derks, Cor Loeffen, Trudy Houwen and Gertjan van Olst were very satisfied after the auction. "Due to the great offer at our selection days, we were able to gather a rather large group of foals originating from both proven and promising stallions", according to Cor Loeffen. "The original plan was to create a sales platform for Limburg breeders and I think we definitely succeeded in that again this year. We are supported by a large group of breeders that come to us annually, not only from this province. That is a compliment, just like tonight's amazing results."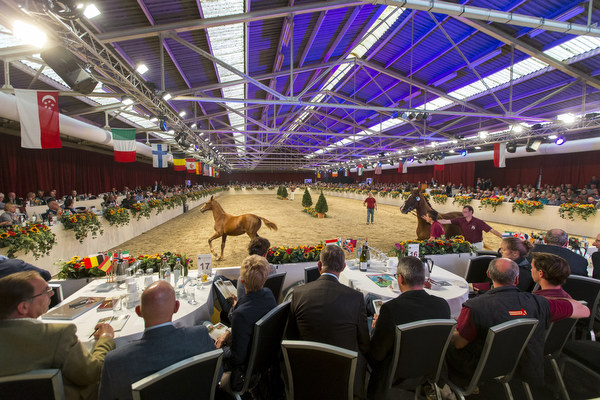 This edition of the Limburg Foal Auction was characterized by a strong foal collection that produced reasonable prices. This resulted in both satisfied buyers and breeders.