Better average price than ever in Limburg Foal Auction
30 September 2021
Following the exceptional Dutch Sport Horse Sales, 75 jumping foals were auctioned today at the Peelbergen Equestrian Center in the Limburg Foal Auction. The genetically interesting Reflex by Nature (s.Cento) leaves for France for the top price of €42,000 and with an average price of €10,800, the auction has once again proven its great value today. The majority of the foals come from the strong breeding area around Limburg and are sold to clients from abroad.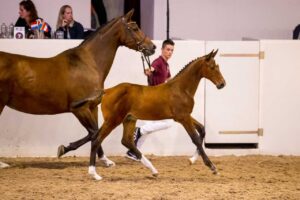 Last year the Limburg foal auction switched to an online foal auction due to all the Corona measures, and in 2019 the average price – with almost ten foals less than today during the 20th edition – was €500 lower. In recent years, the average price has improved almost every year and it is a compliment that this line continued, even after a year if absence, in 2021.
International sales
As the last foal, Reflex by Nature, bred out of the Grand Prix mare Carrière (s.Catoki), was sold for the best price. This Cento son, bred by Stan and Daan Creemers, is leaving for France for €42,000. Also for genetically interesting foals such as the filly Bon Bini Z (s.Balou de Reventon, €29,500), the daughter of the Grand Prix mare Rosana du Park: Charlotte O Z (s.Conthargos, €25,500) and the promising Rapollo (s.Colman, €26,000) good prices were paid. The first two leave for the United States, Rapollo stays in the Netherlands. From the first crop of Farzack des Abbayes, the breeders of Rouge Coco Bloom CD (€20,500) and Revolution (€21,000) got good prices. Tangelo van de Zuuthoeve son Talisman van de Wimphof Z, bred from the international sport mare Wimphof's Hinde, also reached a price over €20,000. "I estimate that at least 80 percent of the foals have been sold to foreign clients and we have again achieved a very high sales percentage", tells Paul Hendrix. "It appears time and again that it is a very strong concept to auction the foals the day after the Dutch Sport Horse Sales."
Great average
The Limburg Foal Auction does not have the goal of competing with the 'big' commercial auctions, since regional sales promotion has been the biggest incentive for twenty years. "With this auction, we have really set ourselves the goal of helping the breeders move forward. The Limburg Foal Auction is a perfect bridge between the best breeders from this area, to a large network of international buyers. The foals have been sold to the United States, Canada, Lebanon, Italy, France and Scandinavia, and other countries. As an organization we are proud that with such a large number of foals we have once again been able to achieve a higher average price than before," says Paul Hendrix. On Friday the 1st of October, another thirty promising foals will be sold in an online edition of the Limburg Foal Auction and bidding on these foals will close from 7.30 pm.