40 foals for sale in online Limburg Foal Auction
10 September 2022
Following on the traditional Limburg Foal Auction on September the 28th at the Peelbergen Equestrian Center, another forty foals will be sold through an online edition. This carefully selected collection includes jumping foals with a great future in sport and breeding. On the 29th and 30th of September bids can be made for offspring of stallions such as Emerald van 't Ruytershof, Cornet Obolensky, Diamant de Semilly and Casall.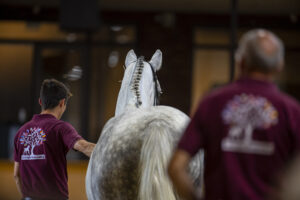 In total, around 120 foals are changing owners via the Limburg Foal Auction this season. More than 80 foals will be sold in the live auction on the 28th of September, in which online bidding is also possible, and 40 foals will then be sold in an online auction. As of today, this collection can be found on the website of the Limburg Foal Auction.
The collection is selected by Paul and Michel Hendrix, Cor Loeffen and Stan Creemers. Genetically very valuable foals are offered in this online collection. For example, the colt Charlie 707 Z (s.Cornet Obolensky) is a grandson of the well-known mare Ligie, who produced the international 1.60m showjumpers Tinka's Hope, Show Show and Calimero of Colors. The Diamant de Semilly colt Style is a son of the internationally 1.50m level performing mare Cantate (s.Cantos) and the Cayetano Z colt Special Envoy is a grandson of the Grand Prix mare Charleen, who competed in the European Championship in 2003 with Mikael Forsten. Another future talent is the Van Gogh colt Spitfire, who is a half-brother of the international 1.60m level horses Big Brother (s.Untouchable) and Dustin (s.Ustinov). Also the damlines of Grand Prix showjumpers like Winchester HS (s.Numero Uno), Plot-Blue (s.Mr.Blue), Valentina van 't Heike (s.Nabab de Rêve), Nairobi (s.Larno) and Wieminka B (s.Cardento) are represented in this collection.
Click here for the collection of the online Limburg Foal Auction.