Van Gogh retires from the sport
4 March 2019
One of the most prominent references of the Limburg Foal Auction, retires from the sport. The outstanding Numero Uno-son Van Gogh has achieved great results with Marco Kutscher and will from now on focus on breeding at De Wiemselbach.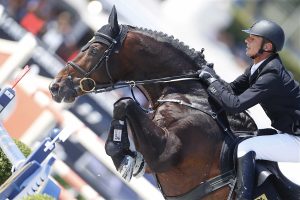 Under Caroline Müller and subsequently Marco Kutscher, the in 2002 born Numero Uno son has achieved countless successes. He was purchased by the Horn family at the Limburg Foal Auction in 2002. Van Gogh has belonged to the world top for years, as winner of prominent classes like the GCT Grand Prix of Valkenswaard, the EEM Grand Prix of Los Angeles and the EEM Grand Prix of Hong Kong. In total, the stallion bred by Peter and Renate Stultiëns has won over one million Euro in prize money. "We look back on a long and successful career of Van Gogh, and a very pleasant collaboration with Marco Kutscher. We could celebrate many highlights and victories and he proved his value for the German Team. Once again, we would like to express our gratitude to those who have been the foundation of the success of Van Gogh. First of all Caroline Müller who took care of the entire training and schooling up to the 1.60m level. In addition, the team of Stall Kutscher-Bitter including Van Gogh's groom Annamari Lahtinen and of course top rider Marco Kutscher", says Daan Horn on behalf of the Horn family.
Great future
As a breeding stallion Van Gogh is also making a lot of progress and he has a bright future ahead of him as a sire." Many offspring are competing in international classes, such as the succcessful Bella Brown, Dena-Sienne, Ceylon, Vincent 163, Vallejo, Fabio and Giro de la Luna. Van Gogh has produced several approved sons already including the KWPN approved  Innovation (ds.Contendro I). The KWPN studbook has awarded Van Gogh with the keur predicate in 2016 for this contribution in breeding and from now on he will be available with both fresh and frozen semen at De Wiemselbach.