Valkenswaard: Limburg Foal Auction provides Global Champion Van Gogh
18 August 2015
Last Saturday, it was again proven that the Limburg Foal Auction brings on many international sport horses. The beautiful Tops International Arana was the scenery of the CSI5* Logines Global Champions Grand Prix. The field of contestants was incredibly strong: 18 of the worlds top 20 competed in Valkenswaard. Marco Kutscher won the Grand Prix with Van Gogh (Numero Uno x Bernstein). Van Gogh was auctioned at the Limburg Foal Auction in 2002.
The base for Van Gogh's unbelievable career was put down in the Dutch city of Weert. The son of Numero Uno was bred by Maatschap Stultiens from Weert. He then got selected and sold at the Limburg Foal Auction in that same city. He was bought by Hans and Daan Horn. The two men tell about it in an KWPN interview from 2013: "I remember it as if is was yesterday! I sat at a table together with my dad and Jan Greve was with us. Van Gogh entered the arena and immediately drew our attention. His canter was already very impressive, lots of expression. That, combined with his good pedigree and of course the fact that he is a son of our stallion Numero Uno made us decide to buy him. He was quit expensive, but it turned out he was well worth the money."
Maatschap Stultiens has to foals in this year's edition of the Limburg Foal Auction. One of the foals is a grandson of Movera, Van Gogh's dam.
Click here for the list of results of the Grand Prix.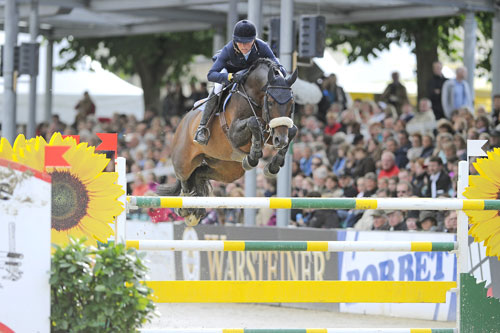 Van Gogh (Numero Uno x Bernstein) was sold at the Limburg Foal Auction in 2002