The first 25 foals will be auctioned tonight
21 September 2020
Since last Thursday, it's possible to place your bid for the 77 showjumping foals in the online Limburg Foal Auction. For the first group of foals, consisting of 25 future talents, the auction closes tonight. So don't miss your chance, register now online and invest in the future with foals sired by top stallions like Cornet Obolensky, Tangelo van de Zuuthoeve, Nabab de Rêve and Berlin.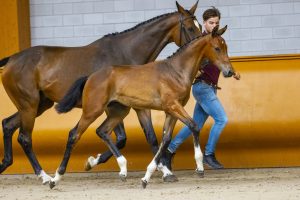 The first lot closes tonight at 19:00PM and every two minutes the closing of the next foals starts. The auction will close for -among others- the colt Phill (Eldorado van de Zeshoek x Vleut), bred from the direct line of the international sports and breeding greatness Verdi. The very interesting Pegasus, sired by the recently deceased top sire Berlin, is bred out of the Grand Prix mare Absie, who has already produced two Grand Prix horses herself. Another talent for sport and stallion approvals is the Edinburgh son Papillon Especiale (ds.Chacco-Blue), who goes directly back to the Grand Prix mare Especiale on the dam's side. And what about the exclusive Tokyo du Soleil offspring Perfectomundo (ds.Kashmir van Schuttershof), bred from a line that already produced Grand Prix horses. On this first day, the bidding also closes for interesting offspring of stallions like Cornet Obolensky, Tangelo van de Zuuthoeve, Aganix du Seigneur, Nabab de Rêve, Cape Coral RBF Z and El Barone 111.
A bid placed two minutes before closing will extend the closing time with two minutes. Every new bid will have the same effect.
Register now to be able to place your bid
Go directly to the auction page
More information about the foals (name breeder, birth date) can be found on this page