Successful first edition of online Limburg Foal Auction
30 September 2019
The first edition of the online Limburg Foal Auction has been successfully completed tonight. With a good price of €8,400, the Diamant de Semilly filly Opal de Semilly V turned out to be the best paid foal. Except for three all foals are sold, and have got new owners from countries such as the Netherlands, Belgium, Sweden, Ireland and Germany. They realized an average price of more than €4,000.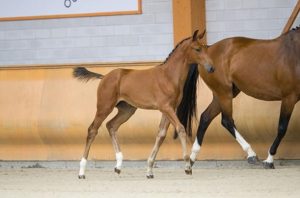 The online foal auction is a new initiative of the Limburg Foal Auction to help breeders with the sale of their high-quality foals. The foals have been selected by the selection committees and have undergone extensive veterinary checks. All findings were mentioned on the website, which made sure the potential buyers were all well-informed before they considered to place a bid.
Price meets quality
In a four-hour bidding duel, the filly Opal de Semilly V (Diamant de Semilly x Heartbreaker, breeder J.G.J. Verstappen) was sold for the best price. For €8,400 this filly will remain in the Netherlands. The genetically interesting Obago (Tangelo van de Zuuthoeve x Cornet Obolensky, breeder Jan Pen) turned out to be the best paid colt. He was sold for €7,600 and will also continu his career in the Netherlands. Good prices were also paid for Quavinia MB Z (Quabri de l'Isle x Indoctro, breeder Highfield Genetics, €7,400) and Esperanza AG Z (Emerald van 't Ruytershof x Corland, breeder A. Gisbertz, €7,400) while the Totilas-son Orlando (ds.Don Romantic, breeder Hans de Haas) was the best paid dressage foal with a price of € 6,800. "It is good to see that there was international interest in the foals during this first edition of our online auction. We were able to realize an average price of more than 4,000 euros and with that we have facilitated more than 30 breeders. The prices meet the quality and we look back on a successful first edition", responds Paul Hendrix.
Prominent sales
Via the regular Limburg Foal Auction and this online auction, around 150 foals are sold of which a substantial part will go abroad. The Limburg Foal Auction thus proves to be a prominent sales channel for this strong equestrian area.