Registration for Limburg Foal Auction possible from today
14 June 2021
Just like in 2020, the Limburg Foal Auction has chosen to combine the selection day with the photo/video day. Therefore the breeders of interesting jumping foals only have to travel with their foals once and the first selection will be made based on their pedigree. Foals can be registered from Monday the 14th of June until Sunday the 11th of July.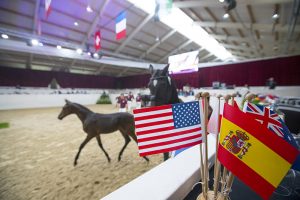 The Limburg Foal Auction intends to organize a traditional auction at the Peelbergen Equestrian Center on Wednesday the 29th of September. Due to all the Corona measures, it was decided last year to combine the selection with the photo/video day, which allowed the breeders to travel only once with their foals. This concept was well received and will therefore also be maintained in 2021. The selection committee consisting of Paul Hendrix, Harrie Derks, Cor Loeffen and Stan Creemers will therefore make the first selection based on the pedigree. All foals that meet the pedigree requirements will be invited for the selection and photo/video days on the 4th, 5th and 6th of August.
You can register for this first selection via this link, this is possible from Monday the 14th of June 6PM until Sunday the 11th of July 6PM.