Parrandero is the 2023 LFA Horse of the Year
1 October 2023
A remarkable number of horses that were previously auctioned at the Limburg Foal Auction are making great advertisement in international competitions. Each year, one of these standout performers at the highest level is chosen as Horse of the Year, and this year, that honor goes to the Clarimo son Parrandero. This Holstein bred stallion, approved under the name Classe HS by the NRPS studbook, has already performed at the highest level with Giavanni Rinaldi and Eduardo Pereira de Menezes.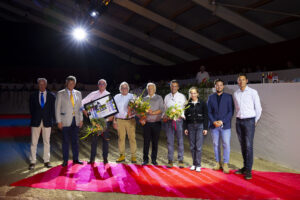 Parrandero was bred by Mart Vossen and was born in 2012. The Clarimo son has a traditional Holstein pedigree and displayed his great potential already as a foal. He was purchased at the Limburg Foal Auction by Jan van Meever, who then had him prepared for the stallion licensing by Jos Houwen.
In Mexican service
After he got approved for the Dutch NRPS studbook, Classe HS made a promising start in young horse and stallion competitions under Kristian Houwen. After that, he was renamed Parrandero and went to Mexico. Under Enrique Gonzalez, he developed into an international 1.50m show jumper and also achieved success under Eduardo Pereira de Menezes. Nowadays, the eleven-year-old Holstein horse is ridden by Giavanni Rinaldi, who was, for example, placed third in the 1.50m class in Riesenbeck with a double clear round last summer. Parrandero has already secured seven international victories and, with his current rider, he was placed second in the 1.50m and 1.55m classes of Kronenberg and Chantilly.
Celebration
During the 23rd edition of the Limburg Foal Auction, this ambassador was honored as the LFA Horse of the Year. His breeder, Mart Vossen, was involved in the celebration and received a beautiful photo of Parrandero.