Limburg Foal Auction proves excellent showcase for jumping foals
25 September 2019
That the breeding area from which the Limburg Foal Auction selects, contains outstanding jumping bloodlines was proved tonight during the 19th edition, where the jumping foals were sold for good prices. The day after the Dutch Sport Horse Sales, the international buyers were impressed with the potential of this latest generation. With € 36,000, the Zirocco Blue VDL offspring Online Especiale turned out to be top seller.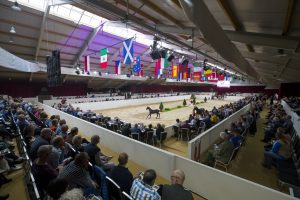 The almost 70 show jumping bred foals generated a convincing average price of € 10,300 and with this the Limburg Foal Auction again proved to create great sales. Two foals from breeder Jack Verstappen, both out of the damline of his Grand Prix mare Especiale (s.Voltaire), were among the best paid foals.
Especiales
For € 36,000, the genetically interesting filly Online Especiale (Zirocco Blue VDL x Chacco-Blue) leaves for the American rider Gigi Moynihan. "I was really determined to buy this foal, she has such good bloodlines and is very athletic. I can't wait for her to join my string of horses in a few years! " From the same breeder and family comes filly Only Especiale (Luigi d'Eclipse x Chacco-Blue), who is sold for a price of € 25,000 to the United States and this fits in with the prevailing trend that the fillies out of top damlines are sold for striking prices. The special colt Corvette Z.G. (Cornet Obolensky x Diamond de Semilly, breeder W. Zegers) showed his potential too and got a new owner for € 30,000. Other top prices were given for Urban by Nature (Untouchable x Vigo d'Arsouilles, breeders Stan and Daan Creemers, € 20,000) and Corcindo MB Z (Cornet Obolensky x Indoctro, breeder Highfield Genetics, € 21,000). "For years I say that we have a very strong breeding area in terms of the show jumping bred foals, and that is really proven today. We organize only four selection days, instead of approaching individual breeders, and auction a large number of foals. It's great to then realize an average price of over 10,000 euros", says Paul Hendrix enthusiastically. "That is a nice reward for all breeders who are really serious about the jumping horse breeding."
Specialised breeding
"Of course it helps that the auction is organized the day after the Dutch Sport Horse Sales, but if the quality is not there you really do not get these prices." With the show jumping foals, the bar gets higher and higher at the Limburg Foal Auction and the auction belongs to the top of the Netherlands. Related to this is the fact that the gap between the jumping and the dressage foals in this breeding area is increasing. With a good price of € 16,000, the well moving Glock's Toto Jr. son Ohio-D (Flemmingh, breeder Jos Deenen) proved to be the best-paid dressage foal. The dressage foals were sold for an average price of € 4,990.