Limburg Foal Auction presents 78 future talents
1 September 2020
Since this year, the Limburg Foal Auction has focused entirely on bringing together buyers and sellers of showjumping bred foals. From now on, the collection of 78 future talents can be found on the website and they will be auctioned in three groups in an online auction on the 21st, 22nd and 23rd of September. "We really have a good feeling about the collection," says Paul Hendrix.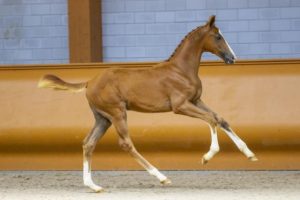 Due to all the Corona measures, the Limburg Foal Auction had already decided at an earlier stage to go for an online auction this year. "That's why we didn't want to include too many foals in our collection, but the quality was really adequate. Certainly because we are organizing an online auction, we have selected extra strictly for correctness. We would have failed the breeders if we had selected less than 78", Paul Hendrix starts off. "They are all promising foals."
Performance genes
Offspring of proven sport stallions such as Tokyo du Soleil, Catoki, Cornet Obolensky, Berlin, Dominator Z, Emerald van 't Ruytershof, Comme Il Faut, Tobago Z and Echo van' t Spieveld are part of this outstanding collection. Also promising young stallions such as Uricas van de Kattevennen, Dutch champion of the 5yo Kardinaal HX and Pegase van 't Ruytershof are also represented in the 2020 collection. "The majority of the foals come from strong damlines combined with proven breeding stallions and young stallions. The Limburg Foal Auction is happy to give the opportunity to offspring of talented young stallions, which makes sure the foals have very varied origins. We have several foals that have been bred from dams or granddams who have achieved great results in the international sport, and/or are closely related to Grand Prix showjumpers."
Good reputation
Foals sold at the Limburg Foal Auction in the past advertise the auction and the breeding area worldwide. "Horses such as H&M Extra, Cas II, Donna Speciale, Van Gogh and Ermindo-W have developed into great ambassadors for our auction. Thanks to such top showjumpers and an average high level, the Limburg Foal Auction has built up a strong reputation worldwide. Normally half of the foals are sold to customers abroad and this year we are also committed to presents these future talents to our international clients. Although we unfortunately have to miss the traditional atmosphere of our auction, we are convinced that we can once again offer fantastic foals that can develop into horses for the highest level."
Bid online
All foals and further information can be found on this website. The online auction opens on Thursday the 17th of September and the foals are divided into three groups in catalog order. The first group (cat.no. 1-25) ends on September the 21st, the second group (26-53) on September the 22nd and the last on September the 23rd (54-78).