Limburg Foal Auction experiences exceptional edition
27 September 2023
During the 23rd edition, the Limburg Foal Auction fully lived up to its reputation as the best live auction in the Netherlands. With a generous number of 78 showjumping foals, a new record was set, averaging over €11,500 each, marking a significant step forward. The Chacco-Blue filly foal Cruela Grandia Z, proved to be the top seller of the evening, fetching a price of €35,000.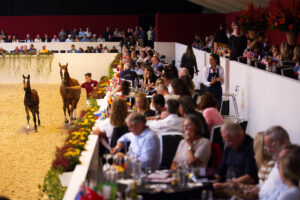 Once again, there was a great deal of international interest in the foals, primarily selected from the Southeast of the Netherlands. Foals were sold both in the auction hall and online to countries such as the United States, Italy, Ireland, Finland, Canada, and Germany.
Exceptional average price
Expectations were exceeded in the Peelbergen Equestrian Centre. With an average price of €11,564, the 2022 average price was improved by nearly €1,000, setting a new record. Female foals fetched an average price of over €12,500, demonstrating that buyers are still investing in genetically interesting mare material. The Chacco-Blue filly Cruela Grandia Z, remains in Dutch hands as the top-priced foal for €35,000, along with the filly Take On Me D (s.Cape Coral RBF Z), which was sold for €30,000. Another notable Cape Coral RBF Z offspring, Triomphe Especiale, is heading to the States for €28,000. There was also significant interest in Annika Z (s.Aganix du Seigneur), acquired by top riders Richard Vogel and Sophie Hinners for €29,000.
Not taken for granted
"With such an average price and relatively few outliers on the lower end, it's safe to say that most breeders went home very satisfied. The Limburg Foal Auction consistently proves its value, and we are delighted that we have been able to continue the upward trend of recent years in this edition. Especially with this number of foals and in these economically challenging times, breaking auction records is by no means taken for granted. I am proud that we, together with the breeders, have succeeded so well this year", tells Paul Hendrix. On the upcoming Friday, over 45 more foals are offered in the online edition of the Limburg Foal Auction. The first lots will close at 7:30 PM on Friday evening, the 29th of September.