Limburg Foal Auction ends three-day auction in an excellent way
23 September 2020
Even in this special year and through an online edition, the Limburg Foal Auction achieved striking sales results during their 20th edition. The 77 showjumping foals got the interest of buyers from all over the world and raised an average price of € 8,650. Two foals bred by Edwin Enzerink exceeded the limit of € 18,500.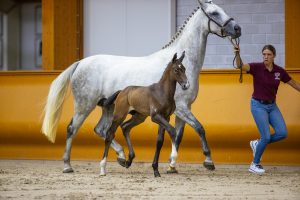 The foal collection was sold online in groups over three days. On the final day, the 25 foals even reached an average price of € 9,684. "We are very satisfied about the Limburg Foal Auction. We have quite some experience in auctioning foals but it was new for us to sell so many foals in an online auction, a decision we had to make because of the special circumstances this year", tells Paul Hendrix. "Luckily, we can conclude that is all went very well."
Strong breeding area
Last year the decision was made to only continue with jumping foals, a specialization that is appropriate to the breeding area and the regular clientele of Stal Hendrix. Because of the Corona measures, an online auction had to be chosen this year, but that did not prevent the auction from attracting an international buyers network. Foals have been sold to countries such as South Africa, the United States, Finland, Ireland, Germany, Canada, Belgium, Italy, Great Britain and Sweden. "Here in Limburg, the south-east of the Netherlands, we have a very strong breeding area with many serious horse breeders. I find it still remarkable that we are able, with only one central selection moment, to come up with so many high quality foals every year. Our foals can compete with those of any other auction. That's why I am convinced that we have not only served the breeders but also the buyers of these foals. They have great potential for the future."
Quality is paid
Two breeding products from veterinarian Edwin Enzerink topped the list. The genetically interesting Pegasus (Berlin out of the Grand Prix mare Absie s.Corland) remains in the Netherlands for € 18,800, while the promising Tobago Z son Trinidad (ds.Casall) ended up in South African hands for € 18,500. Other top sellers were the filly Nothing Compares D (Casall x Cassini I, breeder Dilara Pars), which is sold to Canada for € 16,000, the Tokyo du Soleil offspring Palermo (ds.Clinton, breeder Lucy Meulenberg) who remains in the Netherlands for € 15,500, the Clinton-related colt Utoki of the Paddocks (Catoki x Corofino I, breeder Anthony Mornie) leaves for the United States for the same price and Powerfly Minka (Chacfly PS x Mr. Blue, breeder Family Van de Rijt) goes -as the granddaughter of Grand Prix mare Minka's Diamond- for € 15,200 to Finland.