In the spotlight: Van Gogh!
11 February 2018
One of the most successful references of the Limburg Foal Auction is the KWPN approved Grand Prix stallion Van Gogh. This son of Numero Uno is bred by Peter and Renate Stultiëns and was one of the highlights of our auction in 2002. Nowadays he is known for winning multiple prominent Grand Prix under the saddle of Marco Kutscher and he is making progress in breeding as well.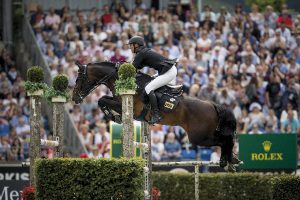 At the Limburg Foal Auction, at that time still organized in Van Gogh's birthplace Weert, the family Horn of De Wiemselbach bought the special Numero Uno colt. Two years later they presented him successfully at the KWPN stallion selections and in the autumn as a three-year-old Van Gogh passed the stallion performance test scorig high marks. After several successful years in the young horse competitions, he was expertly trained to the highest level by Caroline Müller. Since the summer of 2014, he has been entrusted to Marco Kutscher, with whom he has achieved great successes already. Some outstanding achievements are the victories in the Grand Prix of Hong Kong (2016), the Grand Prix of Los Angeles (2016), the GCT Grand Prix of Valkenswaard (2015) and a second place in the GCT Grand Prix of Shanghai (2016).
For both sports and breeding, this LFA reference has proved to be a hit. His oldest offspring are already performing on high level, such as Bella Brown (Emma Augier de Moussac), Vallejo (Katrin Eckermann), Eagel (Pilar Lucrecia Cordon), Dieter (Johan Demolder) and Ceylon (Vincent Vermeulen). And perhaps the most famous Van Gogh-offspring is Cosmo of Sönke Rothenberger, who breaks records at the highest level in dressage.