In the spotlight: Extra!
6 January 2018
One of the many successful horses that were sold as a foal at our Limburg Foal Auction, is the Berlin offspring Extra. This 8yo stallions lives up to his name and is currently ridden by Olivier Philippaerts. Extra was sold as a very promising colt and is heading a grand future in both sports and breeding.
Under the saddle of Olivier's younger brother Thibault, Extra has developed into a very valuable 1.50m show jumper. The 8yo stallion (Berlin x Heartbreaker) is bred by G. van de Winkel and took part in the European Championship for junior riders last August. Thibault took Extra in September to the prestigious Spruce Meadows CSIO5*, where he showed all his skills at the impressive grass arenas. Olivier took over the reins a couple of weeks ago, and made his 1.55m debut in the Grand Prix of CSI4* Stockholm. With only one penalty for time, it turned out to be a top ride and a 8th prize. This week Olivier and Extra are competing at the Olympia Horse Show CSI5* in London and already won a 9th prize in the 1.50m class.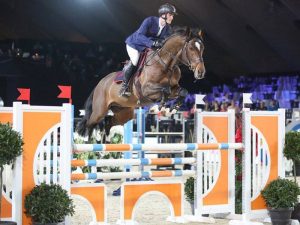 The owners of Extra, the Spronken and Philippaerts families, took their chance at the Limburg Foal Auction this year, as we auctioned a full sister of Extra. They purchased this very talented filly Mucinda, who can hopefully follow in the footsteps of her famous big brother.