Collection of online Limburg Foal Auction presented
10 September 2023
Following the collection for the live auction on September the 27th, the foals for the online edition of the Limburg Foal Auction (September 28-29th) have also been published. An interesting group of 47 foals will be auctioned online two days after the event at the Peelbergen Equestrian Centre. Among them are offspring of Emerald van 't Ruytershof, Comme Il Faut, Conthargos, Mumbai, and Quel Homme de Hus.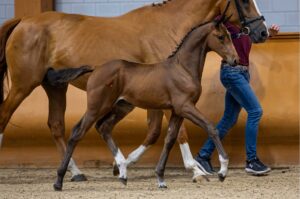 Thanks to the high-quality offerings from breeders, a generous group of foals has been selected for the 23rd edition of the Limburg Foal Auction. Eighty of them will be offered in the live auction on September 27th, with 47 foals following in the online auction.
Quality foals
Within this group of foals, performance genes are abundant. Each foal meets the criteria set by the selection committee and will be inspected again by a representative of this committee just before the moment of auctioning. This provides buyers with as much assurance as possible of acquiring a high-quality foal in good condition. The majority of the foals come from proven damlines. For example, the colt Top Secret GS (s.Cape Coral RBF Z) was bred from a half-sister of Grand Prix winner Winchester HS of Frank Schuttert, the colt Corbas Z (s.Contagio Z) originates from the direct damline of Maikel van der Vleuten's bronze medalist Beauville Z, and Tourka Minka MB (s.Dourkhan Hero) is a granddaughter of the international 1.60m level competing mare Minka's Diamond. Bred from the full sister of Leopold van Asten's Olympic mare VDL Groep Fleche Rouge is the colt Aramis of the Paddocks (sired by Untouchable), and the filly foal Teezer van 't Wold HR (s.Newmarket VM) comes from a half-sister of Grand Prix and World Cup winner Apart of Pieter Devos.