Chacoon Blue son Newmarket VM approved for KWPN
14 May 2021
The in 2018 sold Casper VM Z is making great advertisement for the Limburg Foal Auction. The KWPN studbook approved this Chacoon Blue son today with a total of 83.5 points. This stallion, which is renamed to Newmarket VM, is owned by Stal Hendrix and Redfield Farm and is now available for breeding.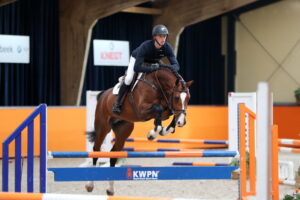 The three-years-old Newmarket VM (Chacoon Blue x Numero Uno) was bred by Paul van Montfort and purchased by Stal Hendrix and Redfield Farm at the Limburg Foal Auction in 2018. He was already one of the most impressive jumping stallions in the second round viewing of the KWPN stallion approvals and totally lived up to the expectations in the 35 days performance test. For his light-footed canter, quick reflexes, good technique and talent as a jumper, 8.5s show off on his grade list.
His sire Chacoon Blue is a strong inheriting son of Chacco-Blue and he has performed at international 1.50m level with Philip Rüping. Newmarket VM's dam Nouvelle Star Z has already produced several showjumpers and brings in the valuable genes of Numero Uno and Carthago. From this direct line already comes the international sport and breeding stallion Zambesi. In the performance report Newmarket VM is praised for his good balance in canter, carefulness, very good use of the body and frontleg, and athetic scope. He is available for breeding at Stal Hendrix.