Biddings are open for the 2020 collection!
17 September 2020
From today it is possible to place your bid for one (or more!) of the 77 promising showjumping bred foals of the Limburg Foal Auction's 2020 collection. The foals will be auctioned in three different groups. The bidding closes for the first group on Monday the 21st of September, the second group on Tuesday the 22nd and the last group on Wednesday the 23rd.
To be able to place a bid, you have to register or log in as a bidder on our website. All foals will start at a price of € 3,000 and it increases with € 200 per bid until a price of € 5,000. From there it will increase with € 500 per bidding.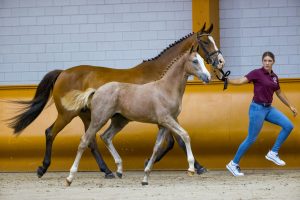 The foals are divided in three groups:
– cat.no. 1 – 25 will be auctioned on Monday the 21st of September
– cat.no. 26 – 53 will be auctioned on Tuesday the 22nd of September
– cat.no. 54 – 78 will be auctioned on Wednesday the 23rd of September
Every day the first lots close at 19.00PM. A bid placed two minutes before closing will extend the closing time with two minutes. Every new bid will have the same effect.
Do you want to follow the bidding without a registration? Click here.