Auction of second group of foals ends tonight
22 September 2020
Today, the bidding closes for the second group of foals, which includes offspring of top progenitors such as Cornet Obolensky, Diamant de Semilly, Echo van 't Spieveld, Catoki and Bustique. Did you miss your chance yesterday? Make sure that won't happen again and register/log in at our website to be able to place your bid tonight.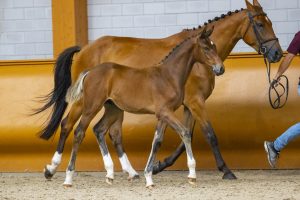 Just like on the first day, you can bid on an interesting foal by Tokyo du Soleil. This Palermo (ds.Clinton) comes from the same family as the stallions Back Gammon and Vincenzo. The Codex One colt Coolio S Z goes back in the third generation to the Grand Prix mare Cocu and has the same granddam as the Grand Prix showjumper B Once Z. Also interesting is the Catoki son Utoki of the Paddocks, bred from a three-quarters sister of the Olympic stallion Clinton. The Grandorado TN filly Paleste Wie is a great-granddaughter of the well-known international 1.55m showjumper Linotte de Sohan. This filly is valuable for sport and breeding as her granddam is a half-sister of ten international showjumpers, including Beezie Madden's Grand Prix top horse Chic Hin d'Hyrencourt. The Chacfly PS filly Powerfly Minka is a granddaughter of the Grand Prix showjumping mare Minka's Diamond, ridden by Emile Tacken, and the Uricas van de Kattevennen filly Passion Especiale goes directly back to Eric van der Vleuten's Grand Prix winning mare Especiale.
A bid placed two minutes before closing will extend the closing time with two minutes. Every new bid will have the same effect.
Register now to be able to place your bid
Go directly to the auction page
More information about the foals (name breeder, birth date) can be found on this page