Two Limburg Foal Auction stallions through to 2nd round KWPN
8 December 2016
Today, the fourth jumping day of the first viewing of KWPN stallions took place in Ermelo. Two of all the attending talented stallions were sold during the Limburg Foal Auction of 2014: Jappeloup (Arezzo VDL x Arizona) and Just So Especiale (Entertainer x Vittorio). These stallion impressed the jury, and not without result!
The Entertainer and Arezzo VDL sons are through to the KWPN second round viewing. This second round will take place from February 1-7 in 's-Hertogenbosch.
The Limburg Foal Auction wants to wish the breeders and owners of Jappeloup (breeder: F.J.G. van Boxtel from Volkel, owner: E. Schep from Tull en 't Waal) and Just so Especiale (breeder: G.J.W. Verstappen and C.M.L Delissen from Swalmen, owner: Stal Hendrix).
Click here to go to the list of all selected stallions for the second round viewing.
Jappeloup (source: KWPN, paardenkrant-horses)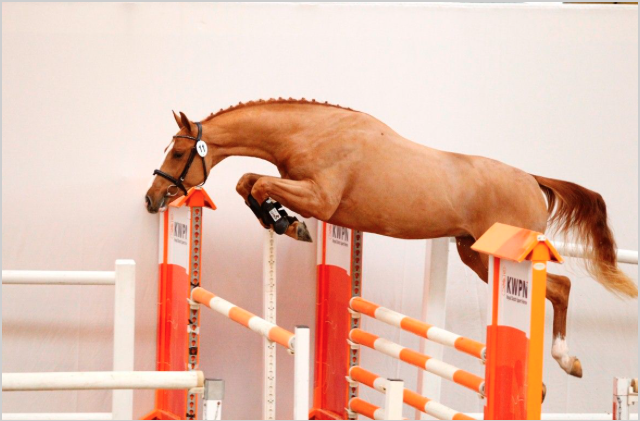 Just So Especiale (source: KWPN, paardenkrant-horses)