Top sport damlines dominate at the Limburg Foal Auction
28 September 2022
Quality foals with top genes were well appreciated during the 22nd edition of the Limburg Foal Auction. With the top price of €33,500, the Tokyo du Soleil stallion Soleil Especiale was one of the four well-paid foals out of the family of the Grand Prix mare Especiale. As a Van 't Roosakker descendant, Carlsberg van WW (s.Chacco-Blue) contributed with a price of €30,000 to this successful auction.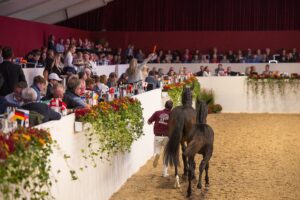 With an average price of more than €10,600, out of an unprecedented number of 81 jumping foals, the majority of breeders returned home with a good feeling. The Limburg Foal Auction has thus once again proven to be a very strong link in the sale of high-quality jumping foals from the breeding area around Limburg.
Especiale
Breeder Jack Verstappen had four successes with foals from the lineage that leads back to his Grand Prix and World Cup winning mare Vink Especiale. For example, the athletic and attractive Tokyo du Soleil son Soleil Especiale (ds.Numero Uno) turned out to be the top seller with a price of €33,500, and he ended up in American hands. Verstappen received €21,000 for the also genetically interesting filly Something Especiale (Emerald van 't Ruytershof x Chacco-Blue), she is leaving for Italy. The Donthargos filly Signorita Especiale, bred out of his international 1.50m mare Also Especial (s.Argentinus), also raised good money for her breeder with €17,500. The second-most expensive foal of the evening is the Chacco-Blue son Carlsberg of WW, who was bred by Wendy Warnar out of a 1.45m level competing half-sister of the WEG showjumper Nelson van 't Roosakker. He leaves for Italy. Other good prices are paid for Encore d'Grandin (Emerald van 't Ruytershof out of a half-sister of the Grand Prix stallion Vagabond de la Pomme, €26,500 sold to Belgium), Alice Z (Aganix du Seigneur out of a half-sister of the WEG showjumper Nikka vd Bisschop, €25,000 to the United States), San-Tiki (Tobago Z x Indoctro, €22,500 to France) and Savage by Nature (Mylord Carthago out of the Van 't Roosakker line, €21,500 to Canada).
Quality and buyers
Good results and references in the past are the reason for breeders to offer such top foals at the Limburg Foal Auction. "It is a challenge every year to sell such a large group of foals, but we can once again conclude that we have managed to attract the right buyers both here at the Peelbergen Equestrian Center and by telephone. The success of the auction is based on a strong collection of foals, and having the right clients. We saw that quality is well paid, and with that we were able to satisfy a lot of breeders and buyers", concludes Paul Hendrix. This week, another forty promising foals will be sold in an online edition of the Limburg Foal Auction and bidding on these foals will close on Friday 30 September from 7:00pm.